​With repeal and replacement of the Affordable Care Act (ACA), popularly known as Obamacare, on the agenda for President Trump and some Republicans in the U.S. Congress, speakers participating in an April 4 panel discussion at the American Association for Cancer Research (AACR) Annual Meeting 2017 described the effects of the ACA and its possible repeal on cancer patients and survivors.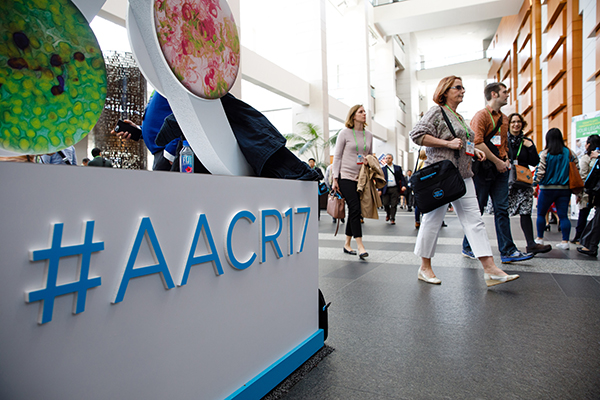 ​Metastatic breast cancer survivor and patient advocate Chiara D'Agostino of Montclair, New Jersey, credited the ACA with saving her life. D'Agostino said she was approved for ACA coverage in September 2014. In October 2014, she felt a lump in her breast that led to a stage III and eventually stage IV breast cancer diagnosis.
Since her diagnosis, D'Agostino has undergone costly surgeries, chemotherapy and radiation treatments, as well as multiple visits to doctors and diagnostic tests. She is currently enrolled in a clinical trial for Keytruda (pembrolizumab) that she said has been effective so far, although she added that she might need to undergo chemotherapy soon.
"I don't think I would be here today if not for the ACA paying for my medical coverage," she said. "To think my health coverage could get pulled out from underneath makes me incredibly anxious."
Breast cancer survivor and patient advocate Diana Chingos of Los Angeles described the experience of having an individual health insurance policy and being diagnosed with breast cancer in her 30s, well before passage of the ACA. She has been free of cancer for 23 years, but prior to the ACA, she was penalized by health insurers with high premiums and deductibles, with some plans refusing to cover her, because of her breast cancer history. High prices for her cancer treatments "began to feel like the beginning of a conspiracy against my financial health," she said.
Chingos said she cried watching the television as former president Barack Obama signed the Affordable Care Act into law in 2010. She pays less for her health insurance now than prior to the ACA.
Cancer researcher Gil Omenn, chair of the AACR Health Policy Committee and a professor at the University of Michigan Medical School in Ann Arbor, described key provisions of the ACA that benefit cancer patients:
Prohibiting denial of insurance coverage based on pre-existing conditions
Prohibiting annual and lifetime insurance coverage caps
Covering dependents up to age 26
Mandating coverage of cancer prevention, treatment and survivorship services
Expansion of Medicaid to more people. Nineteen states have not implemented Medicaid expansion, he said.
In addition, Omenn said, insurers cannot limit or deny coverage of routine care to patients who take part in a clinical trial and cannot increase costs to patients because they join a clinical trial.
Oncologist and epidemiologist Ernest Hawk, Vice President for Cancer Prevention and Population Sciences at the University of Texas M.D. Anderson Cancer Center in Houston, focused on ACA provisions that encourage screening and cancer prevention. These include improving access to preventive services, promoting workplace wellness, strengthening the community's role in promoting prevention, authorizing heavy investments to bolster the primary care workforce, and tackling tobacco use and obesity, major risk factors for cancer and other chronic diseases.
Some 26 million Americans gained health insurance under the ACA, Hawk said, and uninsured Americans experience worse outcomes when diagnosed with cancer, in part because lower compliance with recommended cancer screening guidelines leads uninsured patients to be diagnosed at later stages.
Hawk said the ACA changed health care philosophy surrounding prevention in the U.S. But, he added, "prevention is relatively easy to under-prioritize."
Cancer Today magazine is free to cancer patients, survivors and caregivers who live in the U.S. Subscribe here to receive four issues per year.